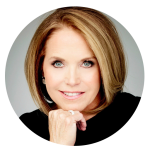 Welcome to Season 2 of the Uncommon Thinking Podcast.
Known as the Velvet Hammer for her likeable but tough interview style, Katie Couric has proven she can do it all.
From news anchor and award-winning journalist, to best-selling author and documentary filmmaker, Couric and her new company, Katie Couric Media are poised to tackle the biggest issues dividing America.
In this interview from Advertising Week New York, Katie discusses her more meaningful moments in journalism, her latest projects, and her position as a role model in today's politically charged landscape.
Podcast: Play in new window | Download